The Dating Show Live Expo is the World's first consumer dating show with everything to do with dating and being single!  If you are single, there is only one place to be on 29th & 30th June 2019!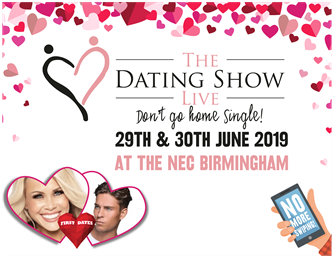 For singles all over the UK!
Fed up of being single?  Join us and 1000s of other singles at the biggest singles show on earth!  Whether you are coming alone, with your married "wing man or woman" to help you or single friends, there is so much to do and explore.
5 Key Zones
Find Me Love - Bump into Joey Essex looking for love and matching you live with Nancy Sorrell, try out new Apps, speed dating, peek inside the Caribbean zone for fun matching activities, sign up for TV's Ultimate Matchmaker's Mixer, date in the dark, join Mr Tinder on his couch or have a cocktail and meet Melinda Messenger in the first live TV lovefest, First Dates Café.

Find Me Attractive – Jacamo, Simply Be, The Perfume Shop and TV Stylist John Scott and Celebrity Makeup Artist Gary Cockerill will be there to re-style and groom you live.  Bump into John Scott who, with his team, will be re-styling you live and explore great products and brands that will enhance you, inside and out!

Find Me Out – Explore what else to do with your friends and dates.

Find Me Fun – Kick back and forget about the matching for a while - just have fun – no pressure!  Mingle in the beer tent, fall off bucking bronco or bring your left feet for the Hold Me Tight Dance Zone.
Find Me Amazing – "find yourself" in the Zen Zone, chill at The Beach or treat yourself.

Live Music and Acts on Stage!

If you are single, there is only one place to be in June 2019 –
 The Dating Show Live!  "Don't go home single"